Germany arrests two Dutch citizens in $45 million cyber heist case
German prosecutors said on Friday they had arrested two Dutch citizens suspected of taking part in a $45 million global cyber heist unveiled the previous day by U.S. authorities.
A 35-year-old man and a 56-year-old woman were caught on February 19 withdrawing 170,000 euros in D~CHECK~sseldorf using Bank of Muscat credit cards. In total, $2.4 million dollars was withdrawn in seven German cities, the prosecutors said.
On Thursday, U.S. prosecutors said an international criminal gang had stolen $45 million from two Middle Eastern banks by hacking into credit card processing firms and withdrawing money from cash machines in 27 countries.
The ringleaders of the global operation were believed to be outside the United States but U.S. prosecutors have declined to give details, citing the continuing investigation. Germany is the only other country so far to announce arrests.
A spokesman for the D~CHECK~sseldorf prosecutor's office said the two Dutch people under arrest had come to D~CHECK~sseldorf with the purpose of withdrawing money in Germany. The two suspects are accused of computer fraud and faking credit cards.
Germany's banking association, BdB, said it was not aware of any banks in Germany suffering losses as a result of the scheme.
In the complaint on Thursday, the U.S. Justice Department accused eight men of withdrawing $2.4 million from 3,000 bank cash machines in New York in the space of 10 hours in February. The Department said seven of the men have been arrested.
Dominican police on Friday confirmed that the eighth, Alberto Lajud-Pena, allegedly the leader of the New York cell, was killed in the Dominican Republic on April 27.
Lajud-Pena was shot dead in a robbery at a house in the town of San Francisco de Macoris, about 100 miles (160 km) northeast of Santo Domingo, local police said. Investigators found $100,000 in cash in the house, as well as an M-16 assault rifle, two 9 mm pistols, a revolver, ammunition clips and a telescopic sight. It was not clear if the killing or the money were related to the cyber thefts.
According to the Justice Department, the hackers allegedly increased the available balance and withdrawal limits on prepaid MasterCard debit cards issued by Bank of Muscat of Oman, and National Bank of Ras Al Khaimah PSC (RAKBANK) of the United Arab Emirates.
They then distributed counterfeit debit cards to "cashers" around the world, enabling them to siphon millions of dollars from cash machines in a matter of hours, the complaint said.
National Bank of Ras Al Khaimah (RAKBANK) said on Friday the fraud against it took place at the end of last year and resulted in losses of around $4.7 million for the United Arab Emirates-based lender.
RAKBANK Chief Executive Graham Honeybill said he believed the fraud went wider than lenders in the Gulf region. "We are given to understand that the overall fraud encompassed a number of banks not only in the Middle East but in the USA and other countries," Honeybill said in a statement.
The amount of the potential loss for RAKBANK was 17.4 million UAE dirhams and this had been fully provided for before it closed its 2012 accounts, Honeybill said.
"The bank can confirm that none of its customers suffered any financial loss as a result of this fraud," he added.
The incident related to events in December 2012 and involved the bank's service provider in India, he said, without naming the provider or giving any further details.
© Thomson Reuters 2013
Canada looking at criminalizing cyber-bullying: PM
Canada is looking to criminalize cyber-bullying, Prime Minister Stephen Harper announced Friday, after a pair of teenage suicides provoked by unrelenting online harassment.
"The Internet is in most ways a great development for our society," Harper said at a roundtable on ways to protect youth from cyber-bullying.
"Unfortunately, it has other purposes and other uses, and young people are extremely vulnerable."
In order to better protect children from online threats, Harper said Ottawa is "expediting a review of the Criminal Code... to identify potential gaps with regard to cyber-bullying, cyber-intimidation, cyber-assault."
At the round-table event in Winnipeg, Manitoba, Harper was joined by the parents of two teenage girls who recently committed suicide after years of cyber-bullying and whose stories have provoked outrage in Canada and abroad.
Rehtaeh Parsons, 17, died in hospital last month in the port city of Halifax, Nova Scotia, after a suicide attempt that her mother blames on an assault and subsequent barrage of taunts by schoolmates calling her a "slut."
Parsons was said to have been drunk at a party when she was raped by four boys. One of the suspects later posted a photo of the incident online.
In a similar tragedy, 6,000 kilometers (3,730 miles) away in British Columbia province, Amanda Todd, 15, committed suicide last October after being tormented by an anonymous cyberbully.
In a YouTube video watched by millions worldwide, Todd said she "cried every night" after a photo of her breasts, flashed in an online video chat with a stranger a few years earlier, was distributed in her community in British Columbia. "I have nobody. I need someone."
After several failed suicide attempts involving cutting herself and drinking bleach and then posting the YouTube video describing her sadness, Todd finally killed herself on October 10.
Police investigated both cases, but no charges were laid.
Celkon to launch A107 Signature One and Celkon C779 in India
The mobile phone maker Celkon is all set to expand its presence in the Indian market. The company is planning to launch a smartphone and a feature phone.
The smartphone has been dubbed Celkon A107 Signature One. It has a 5-inch capacitive touch screen and runs on Android 4.0 (Ice Cream Sandwich). The smartphone packs in a 1GHz dual-core processor along with 512MB of RAM. There is 512MB of internal storage available on this smartphone of which 105MB is user accessible
For camera, there is an 8-megapixel rear camera and a VGA one on the front. So far the price of this smartphone has not been revealed but the company plans to bundle in a flip cover along with the phone. Celkon A107 Signature One is expected to be available in the market starting May 18, 2013.
The feature phone that the company plans to introduce is Celkon C779. The most notable thing about this phone is that it can be charged via an AAA battery. The Celkon C779 comes with 1,800mAh battery and in case of an emergency this battery can be charged through AAA battery for a limited period of time.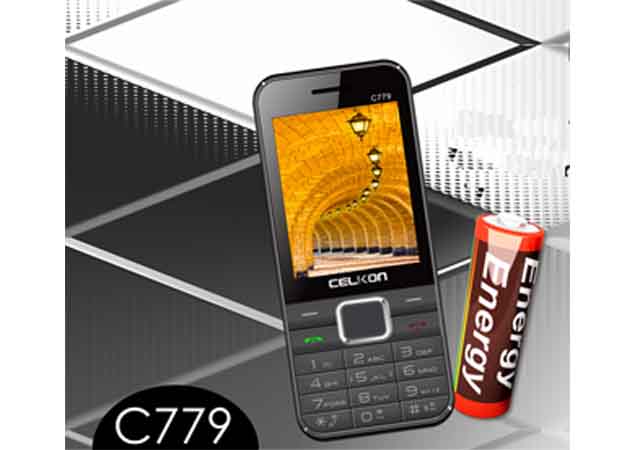 Other features of Celkon C779 include a 1.3-megapixel camera, Bluetooth connectivity, loudspeaker and an audio/ video player. Celkon C779 is a dual-SIM GSM+GSM phone.
The company had earlier launched Celkon A119Q Signature HD in the Indian market for Rs. 12,499. Celkon A119Q Signature HD features a 5-inch display with a resolution of 720x1280 pixels. It is powered by 1.2GHz quad-core MediaTek MT6589 processor along with PowerVR SGX 544MP2 GPU.
Internally, Celkon A119Q Signature HD comes with 1GB of RAM, 4GB of internal storage of which 2.56GB is user accessible. The storage can be further expanded by another 32GB through a microSD card. It is dual-SIM (GSM/WCDMA + GSM) smartphone.
For camera, there is a 12-megapixel rear camera and a 3-megapixel front-facing one. There is a 2,100mAh battery. Connectivity options for Celkon A119Q Signature HD includes, 3G, Wi-Fi 802.11 b/g/n, Bluetooth 4.0 and A-GPS.


Mobiles launched in May 2013
Celkon A107 Signature One
5-inch capacitive touch screen
1GHz dual-core processor
512 MB RAM
512MB internal storage, 105MB user accessoble
8-megapixel back camera
VGA front camera
Android 4.0 Ice Cream Sandwich
Celkon C779
2.4-inch screen
1.3-megapixel rear camera
Dual-SIM (GSM+GSM)
1800mAh battery
Proprietary OS
Nokia Lumia 928 with Windows Phone 8 officially launched in the US
Nokia will sell a new high-end smartphone through U.S. carrier Verizon Wireless, it said on Friday, aiming to expand its share in the high-margin premium market after years of falling behind Samsung and Apple Inc .
The new Lumia 928, priced at $99 if customers mail-in a $50 rebate and agree to a two-year deal with Verizon Wireless , is similar to the 920 model currently sold through AT&T , but is lighter and slightly different in appearance.
It weighs 162 grams compared with 185 grams for the 920, which some critics had said was too heavy.
The 928's 4.5-inch screen also extends to the edge of the phone, giving a sharper impression than the curved edges of the 920. The new models also come in black and white compared with the colourful options of the earlier Lumia range.
Most other features, such as a 8.7 megapixel camera and 1.5-gigahertz dual core processor by Qualcomm, are the same as the 920's.
The 928 is the latest in Nokia's Lumia range of smartphones which use Microsoft's Windows Phone 8 software.
Nokia switched to Windows in 2011, aiming to compete with Apple's iPhones and rivals using Google's Android system. Sales of Lumia phones have grown in recent quarters, but at 5.6 million in first quarter, they still account for only around 5 percent of the market.
The company has recently launched new products in the lower and mid-tier range to protect its position in emerging markets, but analysts have said its success in the high-margin smartphone market will be crucial for its long-term survival.
Nokia is due to unveil its new Lumia strategy at an event in London next Tuesday.
© Thomson Reuters 2013


Mobiles launched in May 2013
Icahn, Southeastern mount challenge to Dell buyout
Activist investor Carl Icahn and Southeastern Asset Management Inc, two of Dell Inc's biggest shareholders, have proposed an alternative to a $24.4 billion buyout led by founder Michael Dell that will take private the world's No. 3 PC maker.
Michael Dell, major shareholders such as Southeastern and billionaire Icahn are waging a battle over the future of the world's third largest personal computer maker, once a tech-industry high flyer, but now struggling to evolve as people embrace smartphones and tablet computers.
Michael Dell and private equity firm Silver Lake want to take the company private for $13.65 per share, making it the largest private equity-led buyout since the 2008 financial crisis.
But Icahn and Southeastern proposed an alternative to a take-private buyout that lets shareholders get $12 of cash for every share they own, as well as keep their stock. Given that they retain their stake in the company and that the rival offer is for $13.65 a share, every stock owned takes on a value of $1.65, Icahn and Southeastern argue. (http://r.reuters.com/tug97t)
At $12 apiece, the cash portion of Icahn's and Southeastern's offer will come to $21 billion.
The initial reaction from shareholders to the rival proposal was favorable.
"It's improvement. It gives people a choice. The other (proposal) comes across like a ramrod," said Donald Yacktman, founder and CEO of Yacktman Asset Management, holds 14.8 million shares, according to Thomson Reuters data.
"Whichever way things evolve, what this is doing is forcing better capital allocation than we have seen in the last five years."
Southeastern, T. Rowe Price and other major investors in the company have publicly criticized Michael Dell's buyout as severely undervaluing a company that still operates a large enterprise-focused computing business in addition to its ailing PC division.
Icahn's offer "gives us the opportunity to continue our participation in Dell's operating business and thus we believe it to be superior," said Tim Piechowski, associate portfolio manager, Alpine Capital Research, St Louis, Missouri, which owned 2.2 million shares as of December 31.
Dell shares were up 1.2 percent at $13.48 in afternoon trading.
TAKING IT PERSONALLY
Icahn told Reuters on Friday he will personally contribute a couple billion dollars to finance a $5.2 billion bridge loan needed to effect his deal. He added that he had already reached out to several investment bankers. Later, he told CNBC in a TV interview that one of those investment banks included Jefferies.
Icahn and Southeastern said in the letter it was "insulting to shareholders' intelligence for the board to tell them that this board only has the best interests of shareholders at heart. We are often cynical about corporate boards but this Board has brought that cynicism to new heights."
The Icahn and Southeastern challenge comes after Blackstone LP ended its pursuit of Dell in April, pulled out a month after it teamed up with Icahn to challenge the take-private attempt.
Dell said in a statement on Friday that its special committee is reviewing the Southeastern Asset materials and will provide comment in "due course." A representative for Silver Lake declined to comment.
"I don't think Icahn and Southeastern have enough sway over the shareholders," Raymond James analyst Brian Alexander said. "As Dell has a lot of cash, (the latest deal) is basically like a leveraged private equity deal, without the company going private."
Icahn and Southeastern said that, if Dell's board pursues the go-private offer with a shareholder vote, they will put up a slate of 12 directors to challenge the current board. In an interview with CNBC on Friday, the activist investor said Michael Dell will no longer run the company should his slate of candidates be elected.
Both Icahn and Southeastern said they would take additional shares rather than cash. They would finance the proposal from existing cash and about $5.2 billion in new debt.
Icahn and Southeastern together hold about 13 percent of Dell stock. The billionaire investor previously proposed paying $15 per share for 58 percent of Dell.
"As a shareholder, what I'm most pleased about is that the pot continues to be stirred," said Robert Willis, president and CEO of Willis Investment Counsel in Gainesville, Georgia, which owns about 350,000 shares of Dell. "I like the fact that those who oppose this aren't going to lie down."
© Thomson Reuters 2013