CIO Interview: Graeme Hackland, CIO, Lotus F1 Team
Graeme Hackland, CIO of Lotus F1, has been working for the race car team for 16 years and has seen major changes in the way IT is used both on and off the track.
He started as network engineer and moved up to an IT infrastructure manager role when the team was taken over by Renault.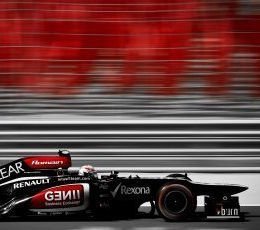 The team's head office is in Oxfordshire where Hackland now spends much of his time. 
He says: "Early on, I used to support the guys at the track. But these days there are restrictions."
Hackland is responsible for the provision of application and infrastructure to support the IT needed for the race team including design, manufacturing, the wind tunnel systems and the supercomputer which runs complex fluid dynamics (CFD) simulations for optimising the cars' aerodynamics. He is also responsible for security and is a member of the senior management team.
He recalls: "When I joined the team, we mainly ran big Unix system for CAD [computer aided design], and we'd take the Unix workstations to the races. We had five laptops on track and green terminals in the factory."
Leading the adoption of technology
But F1 is highly technical. So while this setup looks primitive by today's standards, in his experience of the sport: "F1 is always leading the adoption of IT technology."
He admits he is not a big fan of big data, but success at F1 is all about high speed data analysis.
Data from the car used to fit on a single floppy disk. F1 cars now produce gigabytes of data.
"I don't like the term big data because it causes confusion. For us the big data challenge is in using multiple data sets, such as data from aerodynamics and CAD, to create performance from the car," he says. 
Such analysis is not restricted to the race track. 
"I see a lot of similarities in real time data analysis in financial services. When you are on the track you will have, at most, 90 seconds to make a decision, based on analysing hundreds of parameters," Hackland says. These cover everything from tyre pressure, the state of the weather, to the position of rival teams, and their tyre strategies.
The team is using Microsoft Dynamics to replace siloed systems to deliver an end-to-end view of the manufacturing process. He uses IT consultancy Avanade for software development and testing.  Software is built using a service oriented architecture (SOA) with Microsoft.net.
Lotus F1 does use some off-the-shelf software, like Dynamics, but where there is a competitive advantage, it uses bespoke systems. 
"If we see there's a competitive advantage such as in CFD, the wind tunnel and statistical analysis, we write the software ourselves," says Hackland.
It is focusing part of its development efforts in a system for improving data analysis. 
Avanade is developing the system, called Strategy, which combines engineering and data with Microsoft Dynamics. The Strategy system is a statistical engine that takes race information, engineering and simulation data, to enable the team to make continual improvements to the car and the race strategy.
The system will enable Lotus F1 to get an end-to-end view covering PLM (product lifecycle management), ERP (enterprise resource planning) and the race performance application. 
Streamlining analysis
Hackland plans to link CAD and Microsoft Dynamics. This would help Lotus F1 streamline analysis of the car's performance with engineering data. 
"Today it is very manual and it take a few days to bring all the data altogether," he explains. Linking Dynamics with CAD would speed up data analysis. 
Hackland says a race team can win a single race without such data analysis, but winning the F1 championship requires software like Strategy to help the team build a better car over the season.
But the Strategy software will become more important in the 2014 season.
Hackland says: "Strategy software will be critical next season due to changes in regulations, such as the use of 1.6 turbo engines. 
"It won't be so easy to look at the previous season's data. We're almost baselining at zero again."
He adds: "We look at hundreds of parameters, including what competitors are doing. A subset of data is over the radio from the car in real time. 
"We monitor alarms like a puncture. The strategy system uses this data to run a race simulation every three minutes."
Given that a F1 car does not carry enough fuel to run at full throttle to the end of the race, Hackland says: "We need to analyse how we will get to the end of race." 
Strategy leads to victory
In Australia, he says the race strategy helped Kimi Räikkönen win the race. "We have been very good at managing tyres. Kimi did two pitstops, rather than three," says Hackland.
Much of the analysis is run real time at the trackside. However Hackland says Lotus F1 is now building a dedicated room at its head office where people can work with real time data from the factory.
This would have been impossible a few years ago given the state of UK broadband. 
He says: "We are in the middle of the English countryside and there is no industry around. In the past, getting communications was difficult. 
"But we now a dedicated 10 Mbps link with high availability." 
The reliability of the connectivity means Hackland is giving serious consideration to using cloud services.
"We are started with putting the obvious things in the cloud like email and CRM [customer relationship management] – but we can see huge potential benefits in terms of racing team logistics.
After each race all the IT equipment is packed up and shipped back to Oxfordshire, before being sent to the next race. It is not possible to update software while the equipment is in transit, which means Hackland only has a day to configure the systems before the race preparation starts.  
He says: "We cannot do application updates until the Wednesday before the race. It would be much better if we could pull this back to earlier in the week." 
Cloud computing could facilitate this.
That said, he admits that everything trackside needs to run standalone, just in case the global communication link fails.
Read More
Related content from ComputerWeekly.com

RELATED CONTENT FROM THE TECHTARGET NETWORK
Steve Ballmer Talks Up Windows 8 and Windows Phone in Europe and Israel
Editor's note – Nov. 20, 2012 – A photo from Ballmer's visit to France was added to the slideshow below.
REDMOND, Wash. – Nov. 13, 2012 – World, meet Windows 8, Windows Phone 8, and Surface. Microsoft CEO Steve Ballmer last week took Microsoft's wave of new products on the road, visiting Europe and Israel.

He said the launch of Windows 8 and Windows Phone 8, an upcoming new version Office, and updates to the company's Xbox platform—all part of the biggest wave of updates in the company's history—signify that Microsoft has entered a new era.
"For us this is a time of reimagination, innovation, rebirth, and I think the opportunity is quite large," Ballmer said.

In speeches to students in Moscow, tech start-ups in Israel, customers in London, developers in Berlin, and partners in Paris, Ballmer highlighted how Microsoft delivers highly personalized experiences on Windows 8 devices and Windows Phone 8.

Windows 8 is "the best version of Windows ever built," he said. "It is the fastest, it turns on the quickest, it uses the least amount of memory; in any sense for the over 1 billion people on the planet who use PCs today, Windows 8 will let you have the best PC experience ever made."

It's Time to Make the Most Out of Your Day
REDMOND, Wash. — Jan. 29, 2013 — Do you feel completely overwhelmed? From Mexico City to Beijing, people around the globe say they feel so busy that they don't have time for the things they enjoy doing.* Now more than ever, technology can help you manage and enjoy your life.
Read on to learn more about how people find value in being more organized and how you can benefit from Office 365 Home Premium.
* Microsoft Corp. conducted a survey in 21 countries between Dec. 31, 2012, and Jan. 16, 2013, including Australia, Austria, Belgium, Brazil, China, Czech Republic, Denmark, Finland, Greece, Hong Kong, Ireland, Italy, Mexico, Poland, Portugal, Saudi Arabia, South Africa, Spain, Switzerland, Ukraine and the United States. This slideshow represents the results of 10,664 total survey respondents worldwide.
Bravo Outdoor Advertising Reaches Greater Heights With Intelligent System
DUBLIN — Jan . 23 , 201 3 — In Dublin today, dustmen still pick up street litter while banjo players entertain as in ages past. It is not uncommon to see a horse-drawn carriage alongside a double-decker bus.

At the same time, a number of global high-tech companies maintain their European headquarters in Ireland's capital, making Dublin a city that embraces modernization alongside tradition.

So when Bravo Outdoor Advertising, which manages the advertising for Ireland's national transport system, Córas Iompair Éireann (CIÉ), started adding digital panels inside buses in 2011, it was no surprise that Dubliners welcomed this innovation.

"Digital advertising is a game-changer in outdoor advertising," says Adrian O'Farrell, former marketing director for Bravo Outdoor Advertising. "For a city that has a long history of accepting innovation alongside tradition, it fits right in."

With the help of Pica Vision, a local provider of digital media products, Bravo adopted a Microsoft-powered intelligent system that delivers dynamic content on digital panels. Commuters are engaged during their daily ride and have responded positively to the digital screens, particularly about the quality and variety of the content.

"Digital panels add greatly to the outdoor offering," says O'Farrell. "It provides us the ability to take CIÉ into the next wave of growth."

A Global Positioning System delivers customized content for each route, time of day and vehicle. Bravo schedules the advertising and monitors playback time and locations. This means that commuters could watch an ad for the Brazen Head, Dublin's oldest pub, just as they pass the grey brick entrance. Bravo is also able to provide its end customers with written reports.

Driving Messages to Passengers
January 22, 2013
By the end of 2013, Bravo and Pica Vision are aiming to operate 1,800 digital displays throughout the country and deliver content to 170 million bus passengers each year.

In addition to advertisement, passengers can watch news and entertainment programming from broadcast networks. By the end of 2013, Bravo and Pica Vision are aiming to operate 1,800 digital displays throughout the country and deliver content to 170 million bus passengers each year. Bravo believes that the CIÉ TV channel delivered by Pica Vision on a Microsoft platform can become one of the biggest television channels in the country.

Bravo has already realized a number of benefits, including an increase in revenue and a decrease in costs. With digital panels, Bravo no longer needs to invest as much time and money installing and maintaining signs and billboards. It can now focus on selling advertising.

After making a sale, the company can schedule ads and manage inventory through its online system, which further streamlines its operations. "With digital, we can sell for one day, we can sell for a half a day and we can sell for two hours if that's what's required. The flexibility is enormous," says O'Farrell.

Pica Vision chose to power the digital displays with the Windows Embedded Standard operating system, Windows Server, Microsoft SQL Server data management software and Web services based on the Microsoft .NET Framework. For content delivery, Pica Vision decided on Windows Azure SQL Database, which extends SQL Server capabilities to the cloud.

"Our clients range from large, international firms, such as Coca-Cola, to the small business sector, like the local florist," says O'Farrell. "With the technology of digital panels, we're able to provide a solution that fits the needs of all types of businesses."

Download a Lifeline: New Disaster Response App Launches
REDMOND, Wash. – Jan. 16, 2013 – "I need help." "I want to know whether my friends and family are OK." "I want to help."
Those tend to be the three main reactions after natural disasters strike, said Tony Surma, chief technology officer for Microsoft's Disaster Response team.
HelpBridge , a free new mobile app from Microsoft, aims to support those primary needs. Available today in the U.S. for Windows Phone, Android, and iOS, HelpBridge is designed to make it easy to connect with friends and family during a large-scale disaster such as an earthquake or a hurricane. It also enables users to give time, money and resources to support relief and rebuilding efforts.

When disasters occur, the first thing people who were impacted want to do is to reach friends and family, said James Rooney, program manager for Microsoft Citizenship's Technology for Good program, which developed the app. HelpBridge lets users build a list of friends and family they would want to contact in an emergency. With a few swipes, they can let all those contacts know via SMS, email or Facebook if they're OK or if they need help. The alert can also give a user's exact location via their phone's GPS capabilities.

HelpBridge also provides three easy ways to support relief and recovery efforts in the wake of a disaster, Rooney said. People can use the app to donate funds quickly to a broad range of relief agencies including the American Red Cross, CARE and Global Giving. They can also find out what goods and resources relief agencies on the ground need — making sure they send items such as tents, gloves, and pet food to the right places. Finally, HelpBridge lists real-time volunteering opportunities posted by relief agencies, enabling users to directly or indirectly support relief efforts with their time.

HelpBridge grew out of Microsoft's longstanding commitment to disaster response, Surma said. His global team leverages the company's technology to help relief agencies, nonprofits, and governments respond when a natural disaster occurs. Microsoft has gained valuable knowledge and insight into these crises through its work, he said.

Tony Surma
January 15, 2013
"When disaster strikes, you don't want to be fumbling with your phone and trying to find your mom's number," said Tony Surma, chief technology officer for Microsoft's Disaster Response team.

Downloads:
Web
During recent natural disasters such as the ones that struck Haiti and Japan, Microsoft's global response team saw technology spin up to help people connect with friends, family and relief efforts, Rooney said. But those technologies tended to be built quickly, were specific to the disaster region, and became obsolete in the weeks and months after a disaster.

Rather than recreate technology after each disaster, why not build something "disaster-agnostic" and have it in place no matter where or when disaster strikes? That was the initial spark behind HelpBridge.

The team focused first on helping people connect with loved ones through their smartphones, which have become key communication tools when disaster strikes, said Gisli Olaffson, Emergency Response Director for NetHope. "The simpler we can make it for people to let others know if they are fine or if they need assistance, the more likely they are of being able to get that information out," he said. "Microsoft's HelpBridge mobile app is a great addition to the tools people have for reporting their needs and their status following any natural disaster."

Microsoft also worked with a range of relief agencies and nonprofits as it developed HelpBridge. Rather than reinvent the wheel, it talked to partners such as the Mobile Giving Foundation, VolunteerMatch, Aidmatrix and Network for Good to help users make an impact, Surma said. "We really wanted to provide a breadth of opportunities to match the breadth of generosity people provide after a disaster."
Tying everything together on the back end is Microsoft Windows Azure, an open and flexible cloud platform that makes all the different services easy to use and incredibly reliable, he said.
Surma encouraged consumers to download HelpBridge and take a few minutes to set it up.

"When disaster strikes, you don't want to be fumbling with your phone and trying to find your mom's number," he said. "Spending a little time now can pay off in spades."

Likewise, Rooney hopes the app can help facilitate giving when disasters strikes. He pointed to the millions of people who have responded in the wake of Hurricane Sandy, which will likely be the most expensive disaster in U.S. history. HelpBridge could have helped donors find new ways to give.

"People have been extremely generous donating their time and money after Sandy," he said. "HelpBridge could be a simple way to bump up donations or help people find new volunteer opportunities. If we can direct consumers to give easily, that's really what it's all about."
Sold! Retailers Turn to Microsoft to Engage Tech-Savvy Consumers
NEW YORK CITY — Jan. 14, 2013 — You're walking through a mall when a storefront sign catches your eye — it's an image of yourself in the season's slinkiest dress. Intrigued, you enter the store.

Inside you step up to a monitor and take a closer look. Not your color, you realize. So you try on another dress, add a purse and belt, and dab on several different shades of lipstick, all without stepping into an actual dressing room.

That disrobing-free shopping experience could be coming to a store near you. A company called FaceCake is using Kinect for Windows to create a virtual dressing room where shoppers can try on outfits, makeup and accessories. The immersive augmented reality experience isn't some futuristic vision; Bloomingdale's piloted FaceCake last fall in 20 stores.
FaceCake
January 13, 2013
FaceCake uses Kinect for Windows to create a virtual dressing room where customers can try on outfits, makeup and accessories — either inside or outside the store.

Downloads:
Web
This week FaceCake is previewing its latest Try-On and digital signage technologies in Microsoft's booth at the National Retail Federation (NRF) Annual Convention and Expo. The virtual shopping experience is just one example of how Microsoft is helping retailers engage customers in new ways, said Brendan O'Meara, Microsoft's managing director for Worldwide Retail Sector.

These days, a customer-centric approach is critical to making the sale, O'Meara said. Today's 24/7 mobile and digital lifestyles have put consumers in the driver's seat; they have more information, more options and more expectations when they shop and interact with retailers.

So retailers are turning to technology to keep pace. At NRF Microsoft will highlight dozens of companies that are using its broad range of offerings — from Windows 8-powered devices to Office 365 and Microsoft Dynamics — to engage customers, empower sales staff and manage operations from the warehouse to the store floor.

"Retailers have to deliver very personal, very relevant experiences to their customers in order to differentiate themselves from the crowd," O'Meara said. "At NRF, Microsoft will showcase how new technologies and our broad ecosystem of partner solutions can help retailers deliver the future of retail today."

Getting Engaged

With smartphones in hand, consumers can research products at home, comparison shop right in the aisles, and choose to buy wherever they get the best deal. They also expect a seamless shopping experience whether they're on a website or in a physical store.

Windows Embedded 8
January 13, 2013
With Windows Embedded 8, retailers can create "intelligent systems"—a network of connected devices that work together to let data flow across an organization.

Downloads:
Web | Print
Microsoft's products and devices can help retailers offer these digital consumers a new level of interactive and personalized service, O'Meara said. They include Windows 8 and Windows Phone 8 apps that retailers like Macy's and Amazon place directly in front of customers. Backend solutions like Microsoft Dynamics and SQL Server help retailers manage operations and sift through customer data for new insight. And the Windows Embedded 8 platform enables a new wave of digital signage, kiosks, point of service (POS) terminals and enterprise handheld devices that can provide new ways for retailers to interact with customers.

With Windows Embedded 8, retailers can combine those devices to create an "intelligent system" — a network of connected devices that work together to let data flow across an organization and help sales staff better serve customers, said John Doyle, director of product management for Windows Embedded.

The Home Depot is joining Microsoft at NRF to present a vision of an intelligent system, illustrating a seamless engagement process that extends to the customer's home and culminates in a personalized, in-store experience, with the goal of fostering loyalty.

In the demo, customers can purchase an item on a website and schedule it for pickup at their local store. Associates each carry a Windows Embedded 8 Handheld device loaded with task management, customer lookup, order processing and store inventory data. When the customer arrives, the associate uses the device to locate the merchandise and identify opportunities to help the customer with related needs so the customer has everything they need to get their job done.

The devices are part of a larger solution that also includes in-store Windows Embedded 8 thin clients, where retail associates can get more information about promotions, provide project estimates, and schedule home installation appointments.

"With Windows Embedded 8, we're really taking the latest Microsoft technologies and delivering them across the retail environment to make the technology as easy as possible for their associates to use and help retailers make the most of their data," Doyle said.

Empowering Employees Through the Cloud

Like many businesses, retailers are moving to the cloud in droves, said Clint Patterson, director of Communications, Microsoft Office Division. Major retailers including Helly Hansen, Tesco and jcpenney have turned to Microsoft Office 365 to get there.

But the cloud is about more than just saving money. Offerings like Office 365 can bring the leading social and productivity tools to people across the organization — from headquarters to the stock room to the store floor — that can unlock insights and empower employees to better serve customers, he said.

At BCBGMAXAZRIAGROUP, an Office 365-based system connects store managers and employees across over 45 countries, enabling the premier fashion house to roll out promotions and new products more quickly as well as move faster to replicate best practices across their network of stores.

Red Robin recently rolled out Yammer across its entire network of 470 stores, where the social network helps store managers and team members collaborate and share best practices. Last year, for instance, Yammer helped reduce the time the burger franchise needs to tweak recipes, Patterson said. When Red Robin introduced a new hamburger, team members were able to capture real-time feedback from guests. That helped them modify the recipe in one month — a fraction of the normal 12-18 month cycle.

"With Office 365, employees can share ideas, customer reactions and best practices across locations," Patterson said. "So that killer idea someone tried out in Topeka can be tested and implemented nationwide in a matter of days, not months. The end result is a better customer experience, more engaged employees and lower costs."

Dynamic Retailers

At NRF Microsoft announced the availability of Microsoft Dynamics for Retail, a new tool to help retailers reduce complexity in the face of changing business needs.

Brendan O'Meara
January 13, 2013
"Retailers have to deliver very personal, very relevant experiences to their customers in order to differentiate themselves from the crowd," Brendan O'Meara, Microsoft's managing director for Worldwide Retail Sector.

Downloads:
Web
Microsoft Dynamics for Retail is an end-to-end solution that helps a retailer manage every aspect of its business, including store operations, supply chain, merchandising, call centers, and financials, said Michael Griffiths, global product industry director for Microsoft Business Solutions. It helps businesses connect with customers by letting them buy, pick up, return, or exchange items on their own terms. It also helps empower employees by delivering relevant, real-time information as they interact with customers.

As the connective tissue for so many of Microsoft's retail technologies, Microsoft Dynamics will have a big presence at NRF, Griffiths said. Attendees probably won't want to miss the Lotus Formula 1 racecar parked at the booth. Lotus has turned to Microsoft Dynamics to help fine tune every aspect of their business from managing the design, manufacturing, and testing of up to 20,000 parts on each car and analyzing real time data at the racetrack to managing their merchandizing and e-commerce.

Attendees will also learn how Microsoft Dynamics helps power FaceCake's virtual dressing room experience by delivering product information as customers try on different items.

Razor-thin margins have always been the norm for retailers, but delivering profit has never been more daunting, Griffiths said. The new Microsoft Dynamics offering can help them meet the needs of consumers and respond to latest business trends and expectations.

"Our whole strategy is to help retailers be dynamic," he said. "We keep retailers connected across any channel, personally relevant so they can provide customers with a complete shopping experience, and agile enough to grow their business without limits."

Griffiths said he hopes retailers walk away from NRF thinking that only Microsoft is uniquely positioned to help them be dynamic retailers. "From a long-term vision standpoint, partnering with Microsoft is a definite bet to place for your success in the future," he said.